Related Stories
Conversations with Missy: Collin Raye
COLLIN RAYE SIGNS WITH ABSOLUTE PUBLICITY FOR
EXCLUSIVE PR REPRESENTATION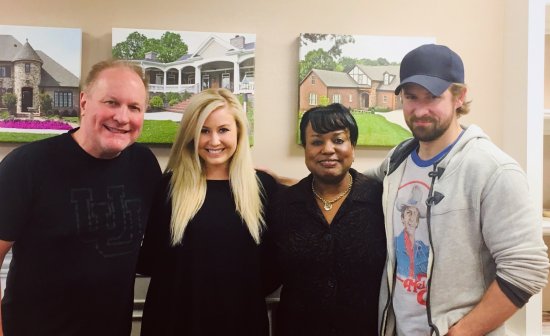 Photo ID left to right: Collin Raye, Absolute Publicity's Caroline Fields, Kay Waggoner Burney, Don Murry Grubbs
Nashville, Tenn. (March 16, 2018) — Multi-platinum-selling country music hit-maker Collin Raye has signed on with Absolute Publicity for exclusive PR representation.
"Very, very happy and proud to be joining the roster at Absolute Publicity!" notes Raye. "So many of my artist friends are on the roster. I already feel at home with Don and his awesome staff. Good things ahead!"

"Wow, what an honor to represent the great Collin Raye!" adds Absolute Publicity president Don Murry Grubbs. "We recently spent some time getting to know Collin and walked away feeling like family. Big things coming this year!"

Raye will be announcing new music in the coming weeks.
About Collin Raye
Contemporary country star Collin Raye burned up the sales charts in the 90's, thanks to a blend of country-rock tunes and socially conscious material. Nothing if not passionate, Raye's soulful delivery set the country standards with searing ballads as "Love, Me," "In This Life," "Not That Different" and "If I Were You," while also blazing through the other side of the spectrum with vivid rockers like "My Kind of Girl," "That's My Story," "I Can Still Feel You" and "I Want You Bad." With 24 Top 10 records, 16 No. 1 hits, and a 10-time Male Vocalist of the Year nominee (5 CMA and 5 ACM noms), Raye remains one of the great voices of our time.
For more information on Collin Raye, visit collinraye.com.
About Absolute Publicity
Launched in January of 2009, Absolute Publicity represents some of the most recognizable names in country music. The company's roster includes Ricky Skaggs, John Anderson, The Marshall Tucker Band, Larry Gatlin & the Gatlin Brothers, Ray Stevens, T.G. Sheppard, Aaron Tippin, Darryl Worley, Billy Dean, Craig Wayne Boyd, Restless Heart, Halfway to Hazard, Pam Tillis, Kelly Lang, Ricky Cook, Jason Morton and The Chesapeake Sons, Moe Bandy, Shenandoah (tour publicity), Sammy Kershaw, and the late Mel Tillis.
About Missy Wolf
Co-Founder, Editor, Journalist
From an early age I knew music and entertainment were in my blood. I have always been enamored with the idea of being in this industry, though I never wanted to be a front and center "Star". Taking the audience behind the scenes for up close conversations with the artists they love is where I want to be. Life in lyrics has always been my style, so as my favorite country artist Wade Hayes sings, I am living my life and chasing my dreams! Conducting interviews, meeting talented people and sharing stories and adventure are my passion. My new favorite hashtag is #iaskyouanswer, so stay tuned for more interviews, articles and adventures!