Related Stories
CRS50 with Missy: Lucas Hoge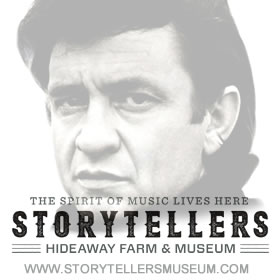 Storytellers Museum & Hideaway Farm
There are some faces in life that you will never forget. When I met Lucas Hoge several years ago, his smile lit up the entire Fan Fair X at CMA Fest in Nashville, Tennessee.
Watching him as he spoke with fans young and old, posing for pictures, signing autographs, and handing out some of his music seemed to make Hoge equally as thrilled as his adoring fans. From that moment, I knew that it was just a matter of time before I was going to begin seeing his name all over the country music world.
Since meeting this genuinely kind artist, I have watched as his career has soared. With the debut of his album Dirty South reaching #1 in its first week, his video for "Boom Boom" staying #1 for seven weeks on CMT, I knew the sky would be the absolute limit for this down-to-earth artist.
As we sat together at CRS 2108, I had the pleasure of getting to listen to Hoge share an incredible tale of events that led to him working with James Garver (former lead guitarist/bandleader for Garth Brooks). Listening to the story, I found myself feeling like we have been friends forever. Connecting with people is something that Hoge is very good at, and in my opinion is what makes him stand out. Experiencing the crazy thrills of life just like anyone else, Hoge demonstrated that he, just like many others, still gets excited when talking about being a fan himself.
Though he has not yet met Garth Brooks, he shared a story of his close encounter with him and we spoke about the reputation that precedes this country music legend. Being a true fan, Hoge put his writing skills to work and wrote a song due to release in mid-March called "Power Of Garth". Perhaps the power of amazing fans, some help from the media, and a little bit of faith will lead to Hoge getting his ultimate wish of meeting Brooks himself. Who knows, maybe that will lead to another great story and song.
In any case, I know what Hoge does next will be great. His positivity, kind heart, rich vocals, heartfelt ballads, soothing melodies, and fun-loving spirit will be the light that this often dark world needs. I definitely look forward to bringing you more from this artist.
Hoge is hands-down one of the easiest people on Earth to speak to and I enjoyed every minute of it. As we were getting ready to say goodbye, Hoge got out his phone to help me with my first live Snapchat. Be sure to watch our full conversation now for that and more. Be sure to follow Hoge on all his social media links. You will be glad you did. On a personal note, take a moment to also listen to his song "Who's Gonna Be There". It just a very beautiful and touching song. Yes, I may have cried. ~Missy
About Missy Wolf
Co-Founder, Editor, Journalist
From an early age I knew music and entertainment were in my blood. I have always been enamored with the idea of being in this industry, though I never wanted to be a front and center "Star". Taking the audience behind the scenes for up close conversations with the artists they love is where I want to be. Life in lyrics has always been my style, so as my favorite country artist Wade Hayes sings, I am living my life and chasing my dreams! Conducting interviews, meeting talented people and sharing stories and adventure are my passion. My new favorite hashtag is #iaskyouanswer, so stay tuned for more interviews, articles and adventures!