Kicking off our CMA Fest 2019 coverage is the band Gone West. While attending this year's Country Music Festival, the members of Gone West had a lot to celebrate. In addition to the incredible bonds of friendship and love that this foursome is fortunate enough to have, they also released their debut country single "What Could've Been" at the stroke of midnight on day one of the highly anticipated country music festival.
These longtime friends and partners were all smiles as they described their music and the unique flavors they offer the listener. Having different backgrounds and varying individual experiences allows Gone West to create music that is fun to listen to and extremely relatable. Watch our CMA Fest conversation now to get to know Colbie Caillat, Jason Reeves, Justin Kawika Young, and Nelly Joy a little more.
Be sure to check out their website and follow them on social media for all their latest news and updates. As always, please remember to share them with your friends. ~Missy
PRESS RELEASE:
GONE WEST, FEAT COLBIE CAILLAT, RELEASED DEBUT COUNTRY SINGLE "WHAT COULD'VE BEEN" JUNE 6th!
GONE WEST PERFORMED AT CMA FEST: CHEVY RIVERFRONT STAGE SUNDAY, JUNE 9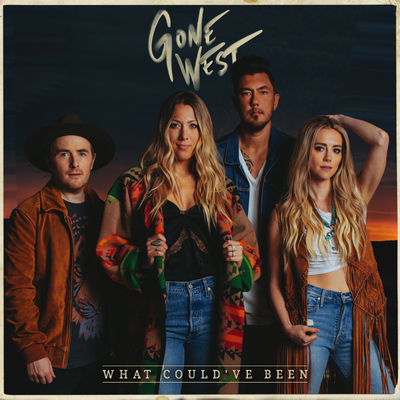 Nashville, June 6, 2019 - Triple Tigers recording artists GONE WEST will release their first single "What Could've Been" today, as announced in People (HERE). GONE WEST is 2X Grammy-winning singer-songwriter Colbie Caillat, Grammy-nominated songwriter Jason Reeves, 4x Hawaiian Music Award winner Justin Kawika Youngand Grammy, ACM and CMT nominee Nelly Joy. GONE WEST produced and wrote the track with Jamie Kenney. It's a huge week for the foursome who also play CMA Fest for the first time, appearing at Chevy Riverfront Stage on Sunday, June 9.
LISTEN: HERE
The four have collaborated musically for fourteen years, but it was while on a personal break from one of the most musical pop breakthroughs of the last several years, Caillat and her fiancée Young decided to head to Nashville where Caillat's frequent co-writer Reeves was living with his wife Nelly Joy.
Suddenly a creative incubator for four friends turned into GONE WEST, a fresh harmony, breezy melody group whose myriad influences landed somewhere between Laurel Canyon, Texas roadhouses, Appalachia's harmony and the plains of the Midwest. In a short time, they were invited to perform at the Grand Ole Opry and signed to Triple Tigers. For Caillat, who'd already collaborated with Taylor Swift and Brad Paisley, as well as CMA Song of the Year winner Liz Rose, it felt like a homecoming.
Triple Tigers Records will release "What Could've Been" to country radio next month: Impact Date July 15.